DAP Russia to present latest sewing business solutions
DAP Russia, which combines two famed brands Durkopp Adler and Pfaff Industrial, will present its latest solutions at Inlegmash at Expocentre Fairgrounds on 17–20 March 2020.
For over 150 years, Durkopp Adler and Pfaff sewing machines have been recognized on the global market as innovative, highly efficient and reliable tools. DAP Russia sees the delivery of the vast range of these premium brands to customers as its mission. By defining ideal solutions to the smallest detail, DAP Russia seeks to provide superior service and consultations for all sewing business aspects including welding technologies.
DAP Russia will demonstrate a broad range of sewing equipment at Inlegmash 2020. In particular, there will be the Russian premiere of the new Durkopp Adler sewing system M-TYPE DELTA, which will start a new era in the production of industrial sewing machines, the company said.
The new sewing system M-TYPE DELTA is a digital industrial sewing machine for such materials as leather, upholstery and technical textiles. Anyone seeking to make individualized products on an industrial scale can gain a competitive edge with this sewing system.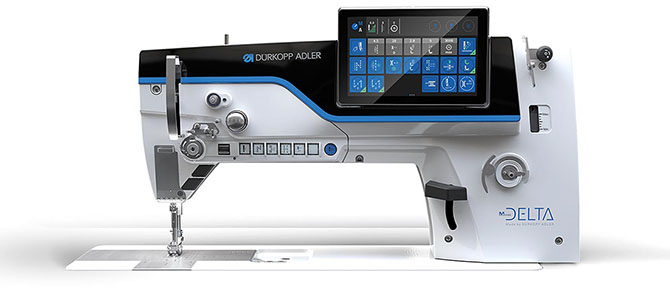 The operator needs minimal training, considering that the machine is supplied with video tutorials demonstrating to the user what should be done and how to do that correctly.
Thanks to its innovative system, M-TYPE DELTA gives unimaginable opportunities. The complex sensor technology guarantees that M-TYPE DELTA will minimize the loss of expensive materials because of bad stitches or missing threads. This is ensured by new smart sewing kinematics. The sewing machine becomes your assistant, partner, helper and communicator. This is a great difference from the previous machine concept offering a great variety of new opportunities.
---