Smart-T demonstration room grows with TitanJet RTX5 MA heat press machine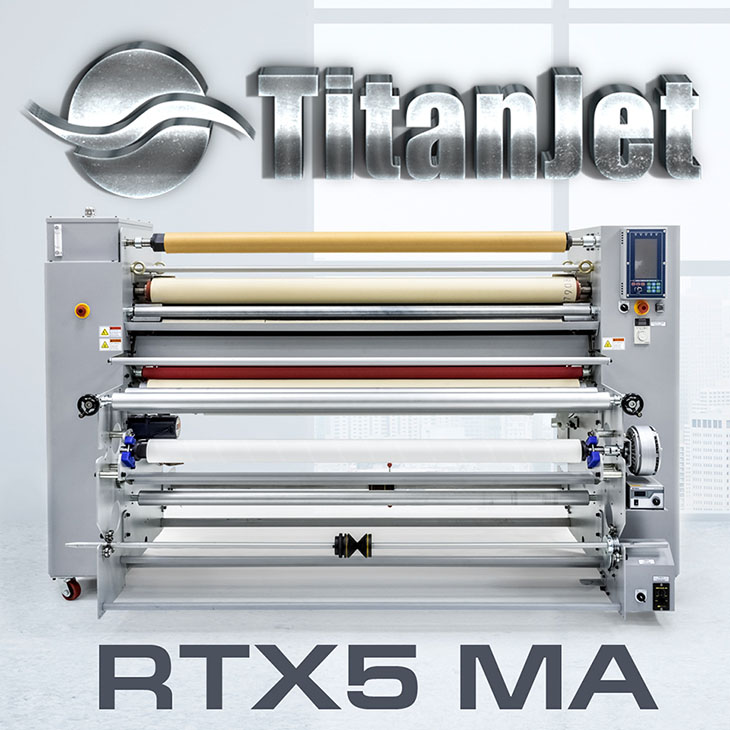 A new TitanJet heat press machine has been installed in the demonstration room of the Smart-T company, which has announced the beginning delivery of brand-new TitanJet calenders of the professional series RTX5 MÀ with a 350 mm oil-filled drum. For now, the product range comprises two models with the work surface's widths of 1,600 and 3,200 mm.
TitanJet RTX5 MÀ bottom-feed industrial calenders are specially designed for modern complexes of digital printing on fabric and knitwear. The oil-filled drum with a high heat capacity and extremely high levels of thermal inertia provides TitanJet RTX5 MA with a competitive edge over traditional heat press machines.
The high temperature precision ensures color stability on long-length products and color repeatability over long runs. The color stability is especially important when printing long runs of textile designs, as it prevents color variations in manufactured textile products. There is guarantee that details cut from different parts of printed fabric will be of the same color.
A major feature of the TitanJet RTX5 MÀ heat press machine is the unique automatic unwinding/winding system creating zero textile (loop) tension, which is vital for working with knitwear and other delicate materials. The RTX5 MA model is an ideal professional solution for manufacturers of sports uniforms and equipment that use such popular knitted fabrics as false mesh, supplex, interlock, etc.
---