SPOOLEX: leading conversion equipment for tension-sensitive materials! (stand FE090)

SPOOLEX is a leading global developer and manufacturer of ultrasonic systems for continuous cutting and welding of woven and non-woven materials, as well as winding, rewinding and bobbin cutting machines and lines.
SPOOLEX is a French group established in 1955. The companies are located in the vicinity of Saint Etienne. Production facilities occupy 3,500 square meters. The group operates in three areas, namely:
Calemard® – machines: winding, rewinding and bobbin cutting equipment (spooling) for various types of materials (wet wipes, filtering, hygiene materials, etc.);
Decoup+® – ultrasonic equipment: continuous ultrasonic cutting and welding;
Roll Concept® – industrial shafts: shafts, screws and winding sleeves.
For 60 years Calemard® has been successfully developing and manufacturing regular and special bobbin cutting and rewinder systems in close collaboration with clients all over the world. The company offers comprehensive turn-key solutions ranging from development, design and testing of a production line to its installation at the production facility, start up, and user training, including full technical support and continuous improvement of technologies jointly with clients.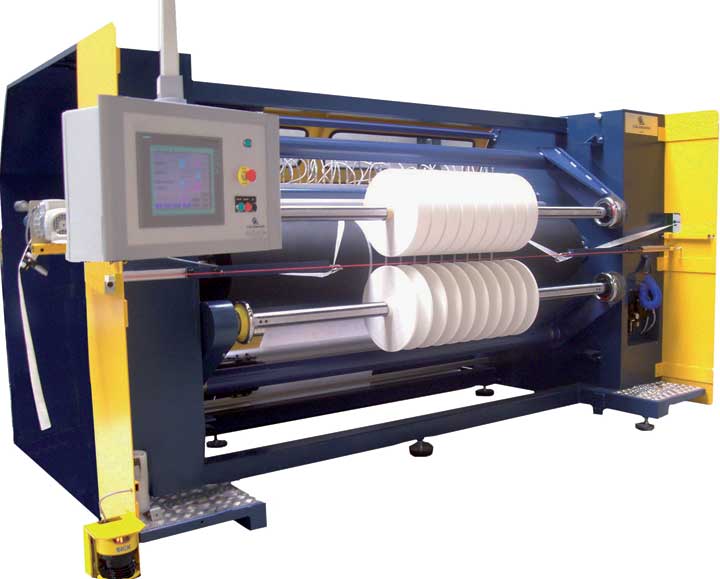 Drawing 1, rewinding machine Orion N
Based on its long-term experience and 70 bobbin cutting machines installed all over the world, Calemard® presented its first spooling line Pegase Jumbo in 1998; the line was designed especially for air-through-bonded materials, which are widely used in the production of diapers and other hygienic products.
By now, more than 200 Pegase spooling lines have been installed in many parts of the world, which made SPOOLEX a global leader in the production of conversion equipment for special and fragile non-woven materials. Larger output with invariable quality is the main competitive advantage of the Calemard® technology achieved through 10-times longer bobbins and reduced line maintenance and waste recycling costs.
PegaseèGeminiSpoolers are lines specially designed for converting asymmetric and fragile materials. The lines are equipped with traverse spooling – a new rewinding technology where each tape is fixed in an ideal position from the cutting zone to the final bobbin and products do not get deformed.
The Pegase product range has recently been updated to the faster semi-automatic Pegase II system and Pegasus 3 with higher productivity and automatic cutting system (for working with primary coils with a diameter of up to 2 mx 1 m, weighing up to 500 kg).
We are happy to take part in the jubilee INLEGMASH exhibition this year and invite you to our stand FE090, where we will introduce you to our new partners. Do come! Have an interesting experience!
Learn more from Galina Yelchaninova, SPOOLEX representative in Russia and the CIS
(tel.: +33 (678) 16-4554; +7 (904) 294-2957, email: galinkaaa@gmail.com). Please visit our website at www.spoolex.com.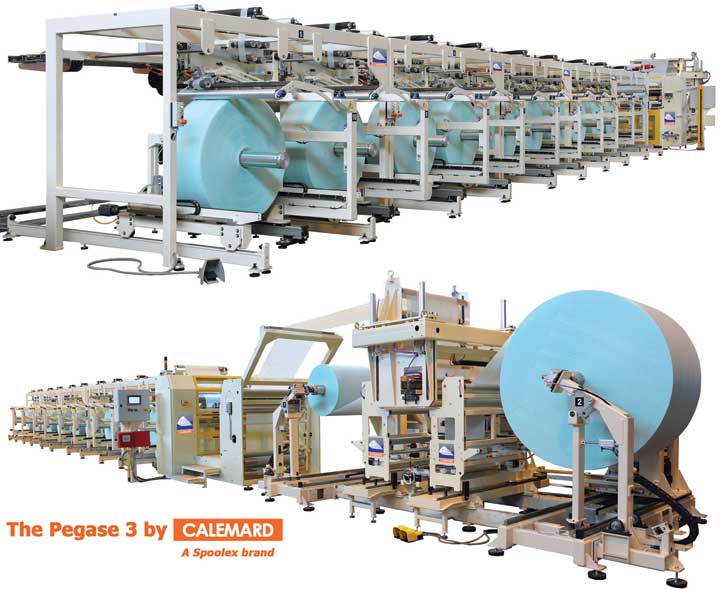 ---