Strimteks set to build technical textiles factory in Moglino special economic zone near Pskov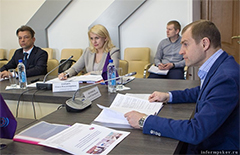 The expert board has approved an investment project of building a technical textiles factory in the Moglino special economic zone in the Pskov region. The factory will make polyurethane-coated textiles. ÍEFI Development (France) is the investor. The funding will exceed 380 million rubles. The factory will be up and running in about two years.
At first, up to 1.5 million square meters of technical textiles will be produced per year, and the rated capacity of 3 million square meters will be reached in 18 months.
HELI Development founder Vincent Aubry said at the expert board's meeting that the factory would make an innovative product practically unknown in Russia although it had long gained popularity in Europe. He believes that Strimteks can occupy a vacant niche on the Russian market and also reach Western markets. Technical textiles will be used for home renovations and for exterior and interior decoration of prefabricated houses and social, industrial and utility buildings.
---